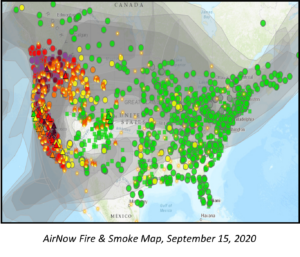 Over the past few years, wildfires have become more severe, and the fire season has gotten longer. In addition to the direct hazards presented by the fires, the resulting smoke makes air quality worse, posing risks to people's health, especially those with heart or lung disease or other respiratory problems. Given the scale and magnitude of these smoke events, it is important that the public receive timely air quality information to protect their health.   
In July 2021, the EPA Office of Air & Radiation, in partnership with the EPA Office of Research and Development and the U.S. Forest Service, released Version 2 of the AirNow Fire and Smoke map.  With a network of over 1,000 regulatory grade air quality monitors and over 12,000 low-cost air quality sensors on the map, the map provides the public timely information about nearby air quality and steps they can take to protect themselves from the smoke. The map also is available through the updated AirNow app, which was released later in July. As of now, the map has been viewed more than 20 million times since its initial release in August 2020.  
The AirNow Fire & Smoke map has roots in E-Enterprise and embodies many of its principles. The E-Enterprise Advanced Monitoring Project helped lay some of the foundational work on low-cost air sensors and communicating to the public how to use them.  The design team followed the principles of the E-Enterprise Digital Strategy by applying an Agile approach and user-centered design. The EPA AirNow program is a multi-decade partnership between EPA's Office of Air & Radiation and its State, Local, and Tribal air agency partners.  
For further information, contact Ron Evans of the EPA Office of Air & Radiation at firesmokemap@epa.gov.