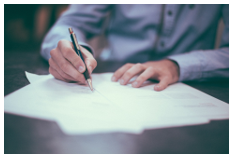 In April, the E-Enterprise Leadership Council offered support to the EPA Office of Enforcement & Compliance Assurance (OECA) as it undertook the development of a Compliance Learning Agenda (CLA) to inform future data-driven decision-making on national enforcement and compliance activities. The CLA will provide a framework to test new and existing innovative technologies and policies; use data to optimize the use of limited resources for the most impact on environmental compliance; provide a pathway for states, tribes, and academics to partner in evidence-based studies; and communicate the value of investing in evidence-based studies compared to anecdotes.   
OECA's CLA is modeled on the requirements of the Foundations for Evidence-Based Policymaking Act of 2018 (Evidence Act), which has federal agencies engage with stakeholders to develop Learning Agendas by formulating priority questions and developing planned activities to help answer them.   
In June, OECA began meeting with states, tribes, and academics to identify possible key questions and a research approach for the coming years, consistent with the data-centric model in the Evidence Act. Representatives of seven states, five tribes, and eight universities have met in small groups to develop topics for consideration by the workgroup. OECA, which will prioritize questions from the list for inclusion in a CLA, is aiming to complete a plan by the end of this year. At their October meeting, EELC members provided input to OECA and discussed potential sponsorship and support of initial priority research questions.    
The potential questions and research topics include the prediction of large-scale releases of hazardous substances (see the EE2020 webinar that touched on this work); the efficacy of formal vs. informal enforcement and the role of escalated enforcement; the effects of publicly available data on compliance rates; the value of onsite vs. offsite compliance monitoring activities; the efficacy of compliance assistance; the root causes of municipal noncompliance; the impacts to program implementation of citizen complaints; and ways to incorporate environmental justice into prioritization protocols.   
Moving forward, OECA hopes to establish a community of practice to continue to support ongoing research projects and plan for future projects and bring together stakeholders to collaborate on them.   
For more information, contact Chris Knopes of EPA, or check the E-Enterprise website.