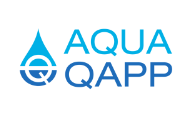 Massachusetts Bays National Estuary Partnership (MassBays) is pleased to share a new web-based application to support monitoring project managers in plan sampling and quality assurance activities. AquaQAPP generates tailored Quality Assurance Project Plans (QAPPs) for marine and freshwater systems, encompassing both water quality and benthic monitoring parameters for freshwater and estuarine/marine systems. 
With funding from the Exchange Network Grant Program and the Massachusetts Department of Environmental Protection (MassDEP), and software development by a technical contractor, MassBays produced a suite of supporting documentation, including: 
A 

User Guide

 with step-by-step instructions for using AquaQAPP, and guidance regarding sampling design, lab selection, and data quality objectives.

 

Field standard operating procedures

 for sample collection, and analytic methods accepted by the two agencies.

 
Forms and Templates

compiled in an Excel workbook, ready for customization by users.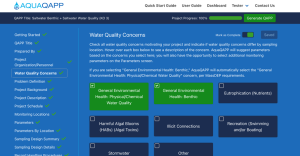 Using AquaQAPP to document and plan for collection of quality assured data means that  the generated QAPP is considered pre-approved by MassDEP and should be acceptable to EPA, as long as no significant changes are made. For monitoring entities, this means that agency review is not required prior to sampling, and sample collection can start sooner. While the tool was developed for groups conducting monitoring in Massachusetts, others will find it useful for generating a draft QAPP that includes all components required by EPA. Boilerplate text embedded in the software is aligned to EPA's required standard QAPP format and content.  
AquaQAPP is registered in EPA's Shared Services Resource Catalog (Resource ID 31577) and is one element of MassBays' 2018 EN grant, Accessing Citizen Science Data for Environmental Decision Making. The grant also allowed MassBays to provide training and hands-on guidance to local monitoring groups, which has resulted in more quality-assured, community-generated data available through the Water Quality Exchange, and has addressed EN Priority 3, to Expand Data Access and Availability.   
For more information, contact Pam DiBona or Jill Carr of MassBays.