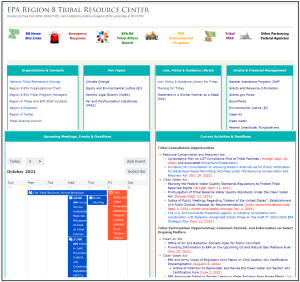 Committed to enhancing the EPA-tribal partnership, the EPA Region 8 Tribal Affairs Branch launched the virtual Tribal Resource Center (TRC) in September. The TRC is a centralized EPA informational resource, accessible to all Tribal Nations within Region 8. 
The online center provides regional and national tribal-related information that includes, but is not limited to, EPA tribal policies and guidance, media program information, legal resources, special topic issues and emphasis areas, EPA tribal grant funding, consultation and informational opportunities, important information on upcoming deadlines, and an events calendar. The TRC brings together in one place disparate resources located in multiple places or distributed through various communication channels, such as the EPA website, informational and learning webinars, consultation and information notices, letters, bulletins, and emails previously shared with tribes independently of each other. EPA Region 8 anticipates that, by centralizing important information, the TRC will increase tribal access to resources, help facilitate tribal participation in EPA's national and regional actions, and provide useful information for tribal capacity building and program development.  
From September 1, 2021, through March 1, 2022, the TRC is operating on the federally authenticated Max.gov platform. During these six months, the Max.gov site will be evaluated as a pilot to determine if EPA will continue to house the TRC on the tested platform. EPA Region 8 envisions that compiling information, resources, and opportunities for tribal communities will help EPA and the tribes advance protection of human health and the environment in Indian country.   
To access the TRC or obtain more information, please contact Benjamin Carlson and Ándrea Trujillo Guajardo of EPA Region 8.