In September, ECOS convened the leaders of 46 state environmental agencies, top-ranking EPA officials, and others for a lively Fall Meeting on innovation that frequently touched on E-Enterprise activities.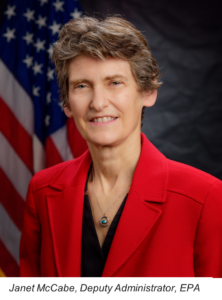 The lineup of prominent keynote speakers included Deputy Administrator Janet McCabe, EPA Co-Chair of the E-Enterprise Leadership Council (EELC), who welcomed the ECOS meeting theme of Better, Faster, Smarter. She pointed to the E-Enterprise partnership among states, tribes, and EPA as one lasting initiative that is advancing innovation in day-to-day processes, monitoring technology, data system modernization, and many other areas. "Based on my engagement with the EELC over the last several months, I am filled with a sense of optimism," McCabe said.    
She pointed to E-Enterprise development of smart mobile tools that enable EPA and state inspectors to easily collect and organize information and evidence for field inspection reports, to the streamlined process for reviewing and approving state and tribal Quality Assurance Project Plans, and to the calculator that estimates the benefits and the return on investment of e-permitting efforts. "The list goes on…over the course of the next several meetings, we will renew our commitment to ongoing projects – Integrated Compliance Information System (ICIS) modernization being one high on everyone's list to continue and complete. We will also, I hope, identify one or two new projects to move forward on together."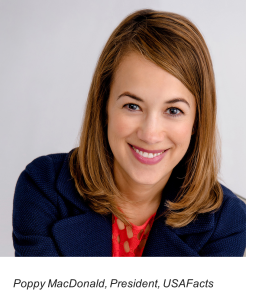 In another lively keynote, Poppy MacDonald, President of USAFacts, winner of the 2020 Webby Award for Government & Civic Innovation, spoke of her organization's mission of presenting unbiased facts to ground public debate. Noting that there are more than 90,000 government entities in the country and no standardization of data collection and reporting, she urged states to advocate for data that are up-to-date, complete, accurate, easy to understand, contextual and relevant, collaboratively sourced, and transparent. She commended ECOS on its ECOS Results initiative that is making strides in that direction, and ECOS members also noted the successes of E-Enterprise in these areas.  
Also during the Fall Meeting, attendees had a chance to screen this general E-Enterprise introduction video and to watch a series of ECOS State Program Innovation Award videos that touched on artificial intelligence activities, which also have been an E-Enterprise focus (see the EE2020 machine learning and predictive analytics webinar). The Arizona Department of Environmental Quality spotlighted its use of predictive analytics to prevent arsenic exceedances (begin watching at 7:28 mark) and plans to expand the initiative to nitrates in the future. Meanwhile, the Washington Department of Ecology showcased its use of machine learning in developing automatic five-day smoke forecasts (begin watching at 3:52 mark).  
For more information, contact Lia Parisien of ECOS.