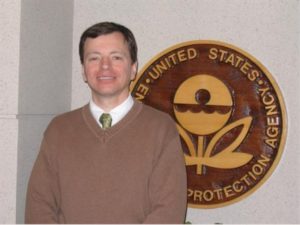 With heavy hearts, the Exchange Network and E-Enterprise community pays tribute to Matthew Leopard, who passed away following a courageous battle with pancreatic cancer.
Matt served as the Director of the Office of Information Management within the EPA's Office of Mission Support. That office leads EPA support for the Exchange Network and provides key technical assistance to E-Enterprise. Matt served as the EPA Co-Chair for the Interoperability and Operations Team and in that capacity had a hand in everything E-Enterprise.
Over the course of his career Matt was an innovator and driver in many areas, such as transformation of paper processes into digital workflows, electronic information exchange with states and tribes, electronic permitting, geospatial analysis and data visualization, mission shared services development, and others. He also was a key leader for several high-profile E-Enterprise Projects including the E-Enterprise Digital Strategy, the E-Enterprise Portal, Facility, and Identity Management. Matt was a thoughtful leader in promoting modern approaches to the use of data to support the health and environmental protection goals of EPA and its state and tribal partners.
Universally recognized as a genuinely good guy, Matt was highly admired for his unique blend of qualities—leadership skills, intelligence, curiosity, dedication, good humor, compassion, and kindness to his colleagues—that made him a delight to be around. Passionate about the natural world, Matt earned a Bachelor's degree in Marine Biology from the University of Miami and a Master's degree in Biology from the SUNY Buffalo State College. Seeking the ultimate challenge, he took on Officer Candidate School at Marine Corps Base Quantico and proudly served his country. Matt enjoyed spending time and traveling with his family; they especially loved the Florida Keys, birding, fishing, running, mushroom and rock hunting, and discovering nature's hidden wonders. Matt leaves behind Patricia, his wife of 31 years, son Thomas, and daughter Sarah.