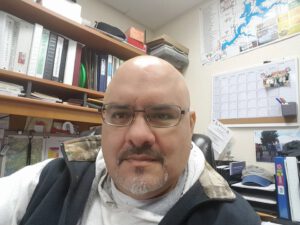 It is with great sadness that the E-Enterprise community pays tribute to Micco Emarthla, who served with distinction as the first Tribal Tri-Chair of the E-Enterprise Leadership Council since 2017. An established tribal member of the Seneca-Cayuga Nation in Oklahoma, Micco worked for a decade as an Environmental Water Quality Specialist and served as an active member of the National Tribal Water Council. Micco's deep reverence for nature defined both his life and his work experiences.
As an E-Enterprise ambassador, Micco tirelessly advocated for ways to improve processes used routinely by–and for the benefit of–environmental professionals. One such project recognizing his vision to improve the water quality reporting process was the tribal application of the Assessment, Total Maximum Daily Load (TMDL) Tracking and Implementation System (ATTAINS), a valuable, time-saving tool for water program staff from a range of agencies. Micco was always challenging the ATTAINS team to do more for the tribes. Never hesitant to address significant challenges, Micco also played a pivotal role launching the E-Enterprise Quality Assurance Project Plans (QAPPs) project, focused on streamlining and defining consistent practices for reviewing and approving QAPPs for grants to tribes and states. The fact that this project continues to make considerable progress is a testament to Micco's passionate and professional leadership.
Born to Walter and Saundra (Sweeden) Emarthla, Micco grew up in Tulsa, Oklahoma and attended Oklahoma State University, where he received a Bachelor's degree in engineering. Micco was proud of his Native American heritage and was a follower of the Longhouse beliefs. He was an avid outdoorsman and loved sports, cooking, and spending time with his family. We remember Micco as a dedicated environmental advocate in both his private and professional life. He is survived by his wife Brandi Emarthla, seven children, his father, and two siblings.