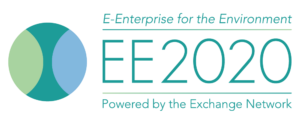 The E-Enterprise and Exchange Network National Meeting (EE2020) has gone virtual. In lieu of an in-person meeting, EE2020 has launched a series of monthly webinars. Each installment features selected content from the original meeting program that showcases our theme of Envisioning the Future of Environmental Protection.
The series kicked off in June with a presentation on the Chicago Array of Things — an experimental network of internet-connected sensors, computers, and cameras that measure the environment, health, and vitality of the city. Participants also had an opportunity to mingle and network with colleagues from across the country in unstructured small groups using virtual breakout rooms.
The July webinar featured a discussion on machine learning and predictive analytics. Researchers from the University of Chicago and Stanford University described their recent work with EPA to develop models capable of predicting the likelihood of severe violations at facilities regulated under hazardous waste and clean water programs. Those predictions may help agencies target scarce inspection resources where they are most needed to improve environmental outcomes. The series continues on August 6 with an introduction to digital storytelling via story maps, and will run through December 2020.
Recordings of each webinar are available for viewing on the EE2020 website. The website also includes information on upcoming topics and speakers along with registration links. While we do hope to be back in late 2021 with an in-person gathering, please join us online throughout 2020 for more presentations and discussions about the future of environmental protection. For more information, contact Kurt Rakouskas of ECOS.
Webinar Schedule
August 6: 
Storytelling With ArcGIS StoryMaps 
REGISTER
---
September 17: The E-Enterprise Digital Strategy: Charting a Path for Digital Transformation
---
October 8: Improving the Management and Use of Citizen Science Data: What Can We Learn from Current State and Tribal Programs?
---
November 5: Do we Even Need Developers? No-Code/Low-Code and the Future of Environmental Protection Systems
---
December 3: Building a Data-Driven Organization
Past Webinars
June: Chicago Array of Things
---