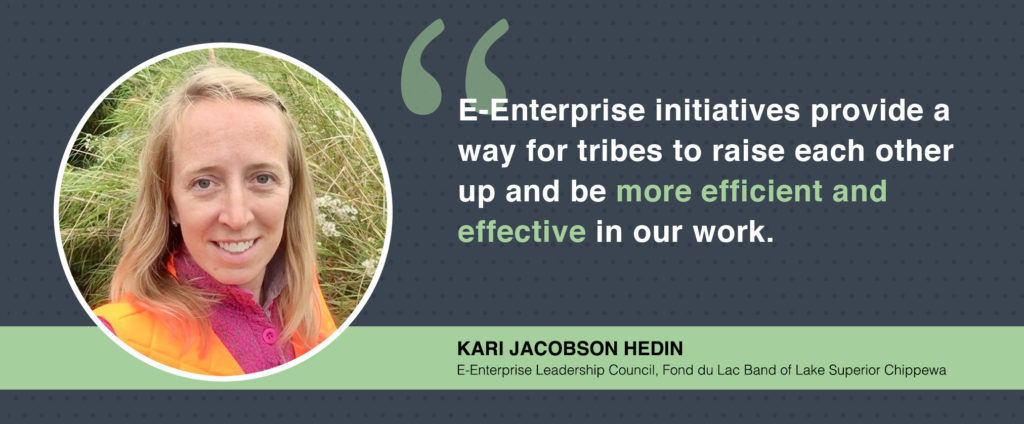 What roles do you fill on behalf of the E-Enterprise initiative?
I currently hold the Tribal Chair seat for the E-Enterprise Leadership Council (EELC), representing the Fond du Lac Band of Lake Superior Chippewa as designated by the Region 5 Regional Tribal Operation Committee. I also serve as a Tri-Chair for the E-Enterprise and Exchange Network National Meeting and participate in the Digital Strategy Workgroup.
What has been the most rewarding aspect of your involvement in E-Enterprise?
It has been incredibly rewarding to learn about innovative ideas and tools that can streamline tribal environmental data management and also be used in a predictive manner, such as tools to track wildfire smoke. Most tribal environmental departments are small and do not have access to IT systems that states have. E-Enterprise initiatives provide a way for tribes to raise each other up and be more efficient and effective in our work. Through E-Enterprise, I have gained additional knowledge about data management in tribal air programs, and I have enjoyed connecting E-Enterprise with ongoing efforts to analyze and share tribal air data. This work has resulted in valuable conversations with my tribal air colleagues.
In which specific E-Enterprise projects are you currently involved, and how will that work improve environmental outcomes?
I am active in several initiatives, including the tribal pilot for the Assessment, Total Maximum Daily Load Tracking and Implementation System (ATTAINS). This pilot has been submitting water quality assessment decisions to ATTAINS for several years and now plans to mentor a new set of tribes. Using ATTAINS increases tribal capacity to maintain up-to-date assessment methodologies and assessment submissions in similar formats. In addition, ATTAINS creates an online repository of each tribe's water quality assessments, preventing the loss of paper records, which is particularly important during staff turnover. For the first time, tribes can begin to compile a comprehensive look at water quality on tribal lands. ATTAINS is unique because it allows for cultural use designations that many tribes have in their water quality standards, and it accommodates tribal concerns around data privacy.
I also participate in the Tribal Citizen Science Workgroup. This workgroup arose out of discussions at the November 2019 EELC meeting about EPA's plans to create a citizen science strategy. We are in the process of compiling tribal citizen science case studies from across the nation, with the goal of demonstrating how EPA can support tribal citizen science. Hopefully, these case studies will inspire tribes to see how citizen science can expand both environmental protection and community involvement, while also respecting tribal data sovereignty.
What lessons have you learned through your experience with E-Enterprise?
I have learned firsthand the importance of thinking strategically about how large-scale efforts, such as ATTAINS, can incorporate the varied approaches and needs of both states and tribes. It is eye-opening to be part of the initial discussions on how a system can be built and used and equally enlightening to see how those conversations can strengthen the focus of our collaborations.