At the 26th Annual Inter-Tribal Environmental Council (ITEC) webinar series this past summer, attendees participated in a roundtable on E-Enterprise and Exchange Network that showcased opportunities for tribes to get involved and activities of the Tribal Exchange Network (TXG). The virtual meeting also featured the recently released Citizen Science tribal case studies compilation that highlights best practices from successful citizen science projects across media areas. The Tribal Citizen Science: Investigating Current Activities and Futures Aspirations White Paper is available on the ITEC Webpage.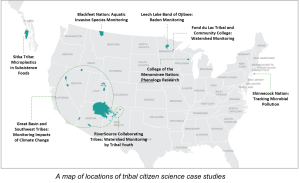 In August, members of the E-Enterprise community had the opportunity to join the Tribal Lands and Environmental Forum Virtual Community Gathering, an annual meeting of the Institute for Tribal Environmental Professionals that included sessions on the Disaster Debris Recovery Tool, E-Enterprise and Exchange Network , Tribal Data Management support and assistance, and cutting-edge online tools for tribal environmental professionals.   
E-Enterprise continues to coordinate with Regional Tribal Operations Committees (RTOC) and participate in RTOC meetings. Current tribal E-Enterprise efforts focus on promoting opportunities to participate in the E-Enterprise Leadership Council (EELC) given current EELC membership vacancies in Regions 2, 3, and 10. This fall, E-Enterprise spoke at the RTOC 4 and RTOC 10 meetings to promote EELC participation and demonstrate the benefits of E-Enterprise tools in environmental program management. E-Enterprise also seeks tribal members who are interested in working on tribal data sovereignty as it relates to the use and management of data, with opportunities to participate in the EELC or other E-Enterprise workgroups.
 
Tribal representatives interested in participating in or learning more about E-Enterprise governance or project work may contact Jason White or Chelsea Jones of Cherokee Nation.