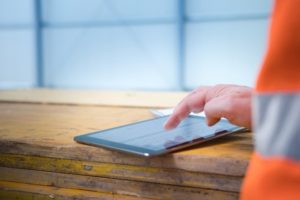 Smart Mobile Tools for Field Inspectors (Smart Tools) improves the quality, consistency, and timeliness of environmental field inspections by allowing inspectors to complete electronic inspection reports on their tablets or ruggedized mobile devices. In late February, EPA completed a series of six hands-on training sessions around the country on Smart Tools. Developed by EPA and states, the new software for EPA, state, and tribal inspectors is being deployed first in support of the Resource Conservation & Recovery Act (RCRA) inspection program and will soon be expanded to support the National Pollutant Discharge Elimination System inspection program.
The training, which featured mock inspections with role-playing, offered participants a chance to practice using the Smart Tools software on mobile devices to take field notes and photos, and conduct other routine activities.
The six training sessions were conducted in Atlanta, Boston, Chicago, Denver, and Washington, DC (twice). Seventeen states attended the trainings: Arkansas, Connecticut, Georgia, Indiana, Kentucky, Louisiana, Massachusetts, Maryland, Mississippi, Montana, North Carolina, New York, Oklahoma, South Dakota, Utah, Virginia, and Wisconsin, in addition to Washington, DC. An additional RCRA training is tentatively planned for July 2020.
For more information, contact David Meredith of EPA or visit the E-Enterprise Smart Tools page. To test out Smart Tools via the Smart Tools Sandbox, please contact Emily Chow of EPA.