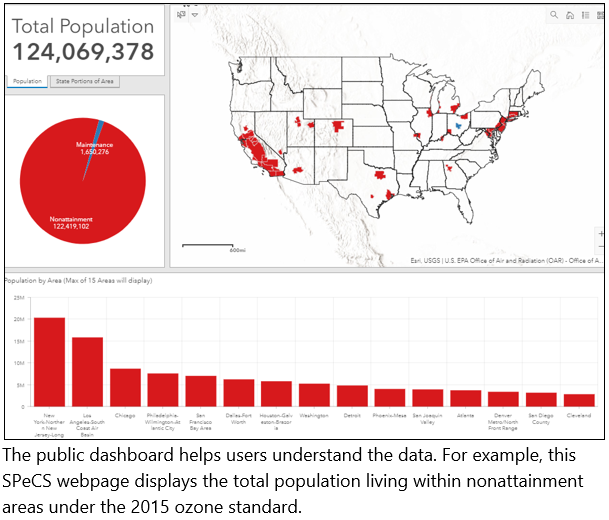 Currently, 49 states use EPA's State Plan Electronic Collaboration System (SPeCS), an integrated electronic submission, review, and tracking system for State Implementation Plans (SIPs) and other state air agency submissions under the Clean Air Act. This expansion of SPeCS across the majority of the nation was highlighted at the spring E-Enterprise Leadership Council (EELC) meeting, where the attending EPA, state, and tribal leaders celebrated this success and discussed plans for upcoming enhancements.
SPeCS is EPA's preferred method for receiving plans from air agencies. To date, agencies have submitted more than 680 SIPs through SPeCS. The system enables state agencies and EPA to manage submissions more efficiently and effectively, increase transparency through data availability, and encourage accountability of regulated entities and the government. SPeCS also enhances internal EPA review, collaboration, tracking, and storage of plans.
Public tools providing status information on EPA actions on SIPs to comply with the National Ambient Air Quality Standards (NAAQS) will soon be made available:
Nonattainment and Maintenance Area Population Tool  – available May 2020
Nonattainment and Maintenance Area Dashboard – available May 2020
Required State Implementation Plan Elements Dashboard – available summer 2020
Through E-Enterprise, a group of EPA and state officials is designing and piloting new modules that will allow air agencies to submit on Exceptional Events through a separate workflow in EPA's Central Data Exchange. The group also plans to upgrade the process for Regional Haze submissions. Future work may include adding Lean workflows and metrics for SIPs, as well as enabling other state submissions related to 111(d) and 129 rules.
For more information, see past webinars and the project background, or contact Mia South of EPA or Kelly Poole of ECOS.