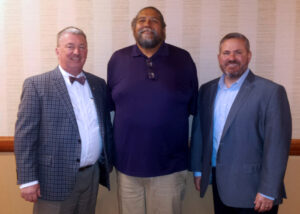 EELC Co-Chairs Jim Macy of Nebraska, Gerald Wagner of the Blackfeet Nation,
and Henry Darwin of EPA (left to right)
State, tribal, and EPA leaders gathered in Phoenix, Arizona at the E-Enterprise Leadership Council (EELC) Spring Meeting to give strategic direction to existing projects and discuss areas of future efforts. Leaders provided strategic direction for E-Enterprise on a shared digital strategy, permitting improvement initiatives, Quality Assurance Project Plans, risk communication on emerging environmental threats, the Assistance Gateway, and the E-Enterprise Community Inventory Platform.
EELC meeting participants also visited the Arizona Department of Environmental Quality (ADEQ), where they got hands-on experience with "myDEQ," an online portal that is streamlining permitting and compliance reporting for Arizona's regulated community. They toured various ADEQ program offices in order to view flow boards – or physical displays showing the status of agency workflows – used as part of ADEQ's lean management system. Highlights included the leadership board in ADEQ's main office detailing agency-wide goals and metrics, as well as a "KOUI" board outlining issues that are Known, Ongoing, Unauthorized, and having an Impact on human health or the environment. In addition, ADEQ flow boards addressing Leaking Underground Storage Tanks demonstrate how this system pinpoints challenges and efficiently engages various staff members on an ongoing basis.
Also discussed was EPA's deployment of the EPA Lean Management System (ELMS). Although not specifically E-Enterprise work, this effort is of interest to tribes and states. The E-Enterprise Regional Coordinators are actively planning how to share ELMS project information with interested tribes and states, as well as to provide opportunities for states and tribes to receive training and provide feedback on relevant ELMS processes and practices.
For information on these projects or future EELC meetings, contact Beth Graves of ECOS.