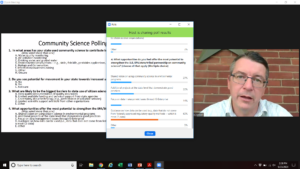 Patrick McDonnell speaking about community science at the ECOS meeting
Citizen science, a long-standing practice that engages the public in scientific research, data collection, and identifying environmental problems, is a focus for E-Enterprise partners. Tribal leaders from the E-Enterprise Leadership Council (EELC) are working with EPA to catalog examples of tribal involvement in citizen science (also referred to by the tribes and states as community science). This project is designed to showcase how tribes use citizen science in environmental protection, share management practices, and identify ways that EPA and other agencies can help sustain tribal citizen science activities. The final product authored by tribal environmental leaders will share best practices that E-Enterprise partners and others can use to support tribal citizen science.
Recognizing the importance of citizen science, EPA is currently developing a vision statement, data management and policy guidelines, and quality assurance guides for citizen science activities. EPA's contract with the Environmental Law Institute generated two publications that assess citizen science programs at environmental agencies: one features 15 citizen science case studies in various media from states, tribes, and local governments that advance public education, capacity building, research, monitoring, or enforcement; and a second highlights best practices for using citizen science in environmental programs.
States also are increasingly engaged in citizen science activities. During the ECOS Fall Meeting in September, Patrick McDonnell of Pennsylvania, serving as the EELC State Co-Chair, hosted a session with EPA Chief Innovation Officer Jay Benforado highlighting state agency support for and use of citizen science. Benforado shared multiple state citizen science efforts including Virginia's extensive Citizen Water Quality Monitoring Program, New York and Vermont's cyanobacteria tracking in Lake Champlain, and New York's community air screen program in which volunteers sample for toxic air pollutants. Via a live poll during the session, state participants identified data quality as the leading barrier to increased use of such science. While some quality guidelines currently exist, the poll results further underscore the need for the additional guidance and documentation currently being developed for use across partner agencies.
Please refer to the resources mentioned above and the recording from the EE2020 community science webinar for more information on specific state and tribal projects and outcomes.