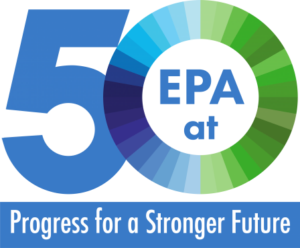 On December 2, EPA celebrated its 50th anniversary. Since its inception in 1970, EPA has worked to fulfill its mission of protecting human health and the environment by improving the nation's air and cleaning up our land and water resources. In the year leading to this milestone, EPA has featured achievements that represent the anniversary theme of Progress Toward a Stronger Future – many of which would not have been accomplished without committed state and tribal partners.
Through E-Enterprise, states and tribes have been key to the success of effective partnerships, including the National Environmental Performance Partnership System (NEPPS). NEPPS enables EPA, states, and tribes to work together, using financial flexibilities to identify shared environmental priorities and work in sync toward a cleaner, healthier environment for American communities. E-Enterprise state and tribal partners, connecting with EPA regions and program offices, continually make the most of opportunities to deploy innovative and effective approaches as they collaborate across program areas including air, water, solid waste, emergency response, and enforcement. The E-Enterprise Bulletin is a rich source of these collective undertakings.
Through our shared governance framework, E-Enterprise continues to be an effective model for transforming how we carry out the "business" of environmental protection: improving data sharing, streamlining program implementation processes, and facilitating informed and timely decision-making for better environmental results. By design, EPA cannot meet the nation's environmental protection challenges by operating alone – it takes all of us working together to make Progress toward a Stronger Future.