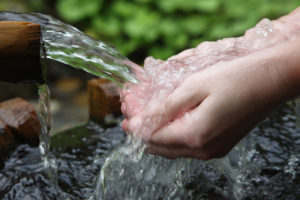 Private well programs across the nation have access to a free online service –  Be Well Informed – designed through E-Enterprise for the Environment to help homeowners from participating locations better understand the results of water quality tests from their private wells. If a user's well water contains commonly found pollutants, Be Well Informed can serve as a valuable resource on health concerns and water treatment choices relevant to the user's state, tribe, territory, or locality.
Participating state and tribal agencies can configure Be Well Informed to provide information for the most appropriate contaminants in their geography. Agencies can also customize contaminant limits, treatment options, and other information specific to their jurisdiction. Meanwhile, the site empowers homeowners to better understand their test results and helps reduce the volume of calls and emails to private well program staff from government agencies.
In early 2021, the Arizona Department of Health Services became the latest Be Well Informed partner, joining agencies from Massachusetts, Michigan, New Hampshire, Virginia, West Virginia, Wyoming, and Wake County, North Carolina. Several other agencies are in the process of adopting the platform.
Originally built through a partnership between the New Hampshire Department of Environmental Services and EPA, the service moved in late 2020 to the ECOS website with support from EPA. ECOS plans to redesign and enhance Be Well Informed in 2021 to give it a fresh look and improve the overall user experience for partner agencies and the public.
Interested in joining Be Well Informed as a partner agency? Visit the Partners' Area and download the Onboarding Kit for step-by-step instructions and other helpful resources, or contact Be Well Informed support staff. For more information, contact Kurt Rakouskas of ECOS.