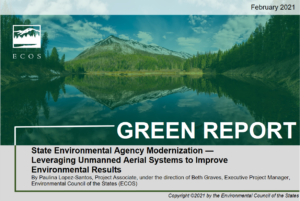 States and tribes increasingly are turning to a valuable tool – drone technology – to enhance environmental protection in areas ranging from mapping and monitoring to inspections and emergency response. In recent years, states have established the use of drones within various environmental programs to boost water monitoring of harmful algal blooms, E. coli, cyanobacteria, bathymetric, and per- and polyfluoroalkyl substances. Drone technology has also facilitated state inspections of dams, mines, watersheds, groundwater, drinking water, and coastlines, in addition to assisting in volume and construction estimation. Tribes too have expanded their use of drones to a variety of environmental programs to collect information and complete projects more safely and efficiently.
In February, ECOS published a comprehensive Green Report detailing state environmental agency use of drones. State Environmental Agency Modernization — Leveraging Unmanned Aerial Systems to Improve Environmental Results presents case studies from 19 states. Each study encompasses a brief summary of the program, current and planned activities, application highlights, lessons learned, program contact information, and useful resources. The most commonly reported use of drones is for emergency response, cited by 12 states, followed by the use of drones for water monitoring, mapping, and mining, noted by eight states. The document presents a wealth of information such as sample procedures, drone specifications, and examples of pre-flight checklists.
The following are just a few state examples cited in the report:
 Kentucky has used an unmanned surface catamaran, or drone boat, to perform its first bathymetric pilot study, and has gone on to conduct similar evaluations. The state employed an aerial drone to map the ridgeline and the elevation of the water surface, and the drone boat equipped with an echo sounder measured the depth of the reservoir and mapped underwater features. Such information provides a more accurate picture of available water supply.
In Michigan, it previously took three to five inspectors climbing several tire piles to manually measure their volume. Now, scrap tire program staff routinely fly drones to generate maps of tires on sites throughout the state, allowing the agency to estimate volume without having to climb piles.
In North Carolina's Estuarine Benthic Habitat Mapping program, a two-person team using a DJI Phantom 4 Pro drone can produce data for 600 acres per day compared to traditional methods of 10 acres per day, yielding significant cost savings.
Oklahoma has employed drones to identify several finished water storage facilities with open hatches and/or damaged or missing vents and screens. These deficiencies, which pose a potential pathway for contaminants to enter finished water, otherwise would have gone uncorrected, as they were not observable from the ground.
Tribes are also leveraging drones to assist with field operations and project investigations. For example:
The Mississippi Band of Choctaw Indians uses drones to map wetlands and collect data while saving time and avoiding multiple trips and dangerous terrains. The drones provide imagery to the Bureau of Indians Affairs.
Other tribes have incorporated drones in their brownfields programs. Cherokee Nation utilizes a drone when conducting Phase I Environmental Site Assessments.
The Passamaquoddy Tribe uses its drone to identify unknown discarded waste and to document coastal erosion.
The Bishop Paiute Tribe employs drones for projects like solid waste surveys, cultural resource surveys, food sovereignty farms, nonpoint source streambank assessments, and imagery for economic development projects.
For more information on state drone efforts, contact Paulina Lopez-Santos of ECOS. For more information on tribal drone efforts, contact Chelsea Jones of the Inter-Tribal Environmental Council. A recording of a December 2020 E-Enterprise webinar, which includes information on EPA's policy on Unmanned Aircraft Systems, is also available.