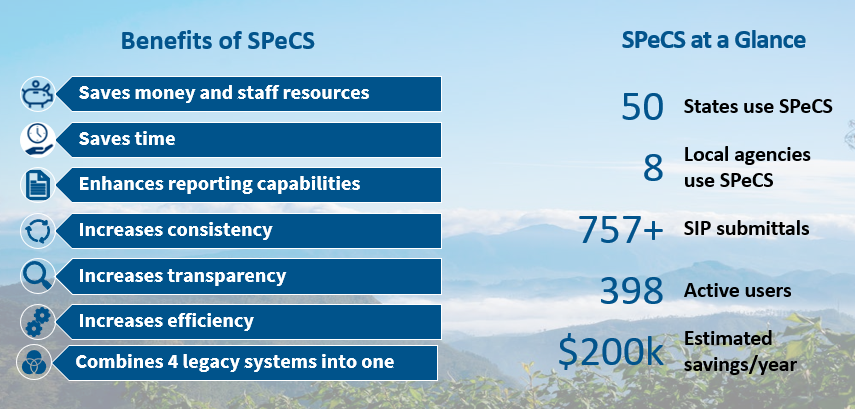 Through the E-Enterprise State Plan Electronic Collaboration System (SPeCS) initiative, a group of EPA and state officials has designed and piloted, and is preparing to launch, a new module that will allow air agencies to submit exceptional event notifications and demonstrations through EPA's Central Data Exchange. Exceptional events are unusual or naturally occurring events that can affect air quality but are not reasonably controllable using techniques that state, local, or tribal air agencies may implement to attain and maintain the National Ambient Air Quality Standards. The new module, planned for release in August 2020, will enable EPA to manage and track exceptional events like never before.
All 50 states now use SPeCS, an integrated electronic submission, review, and tracking system for State Implementation Plans (SIPs) and other state air agency submissions under the Clean Air Act. SPeCS is EPA's preferred method for receiving plans from air agencies. To date, agencies have submitted more than 757 SIPs through SPeCS. The system enables state agencies and EPA to manage submissions more efficiently and effectively, increase transparency through data availability, and encourage accountability of regulated entities and the government.
Three public tools that provide status information on EPA actions on SIPs have been recently completed and will soon be released.
Nonattainment and Maintenance Area Population Tool
Nonattainment and Maintenance Area Dashboard
Required State Implementation Plan Elements Dashboard
Additionally, a group of EPA and state officials is working to upgrade the process for Regional Haze submissions.
For more information, see the project background and other online resources, or contact Mia South and Denise Scott of EPA or Kelly Poole of ECOS.