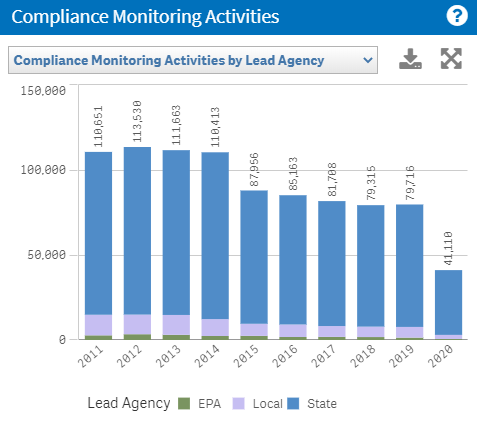 Compliance monitoring chart created within the ECHO Air Stationary Source Dashboard
In May, EPA launched new versions of the Enforcement and Compliance History Online (ECHO) Air Stationary Source Dashboard and Hazardous Waste Dashboard. These updates provide regulatory agencies, tribes, and the public a more user-friendly experience and the ability to see trends in agency compliance program implementation at a glance.
The public dashboards offer summary trends of EPA, state, and local compliance and enforcement activity, such as the number of violations found, or enforcement actions taken, by year. The tribal results are derived by comparing the best available spatial location of the facility to tribal boundaries.
The new updates include:
A dynamic interface with customization options so users can examine the data and trends that most interest them.
Coordinated updates, so selections made in any section (facilities, compliance monitoring, enforcement, etc.) are reflected throughout, making it easier to see meaningful patterns and trends in the data.
A platform that is easier to update, meaning approved change requests can be implemented more quickly than in the past.
Useful features from the previous versions such as filters for permitting agency or tribal name have been retained. As a next step in the coming months, EPA plans to update the ECHO Clean Water and Drinking Water dashboards to this new format.
EPA works with the ECHO Governance Team, which brings together EPA officials and representatives of state and local government agencies to continuously improve ECHO, while engaging state, local, and tribal agencies to understand requirements, review draft products, and make improvements. The governance team is co-chaired by Randy Hill of EPA and Christy Monk of Alabama. EPA welcomes continued input and will actively seek feedback on the Clean Water and Drinking Water dashboards.
To participate in user testing of these dashboards or obtain more information, please contact Rebecca Kane of EPA.