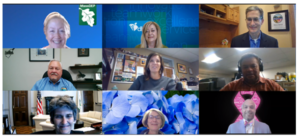 In late October, the E-Enterprise Leadership Council (EELC) met virtually for its Fall meeting to explore new projects and priorities for 2022-2023. EELC EPA Co-Chair Janet McCabe of EPA, State Co-Chair Myra Reece of South Carolina, and Tribal Member Jerry Cain of the Mississippi Band of Choctaw Indians presided over the gathering.  
 The discussions kicked off with a review of potential information-centric projects for the coming months. EPA proposed work on data standards to support information collection under new community air monitoring grants funded by the American Rescue Plan Act. Among the state priorities is work with EPA on evolving the Exchange Network technology infrastructure and a project to evaluate how data standards may improve the efficiency of data sharing among environmental agencies. Tribal priorities include two efforts, the first to assess tribal software licensing needs, and another on maintaining tribal data sovereignty. The EELC also agreed to move forward on upgrades to Be Well Informed, a tool first developed by New Hampshire to help private well owners understand their water test results that is now used by seven states and one county government.  
Other highlights of the meeting included a discussion introduced by Carlton Waterhouse, the nominee to lead EPA's Office of Land & Emergency Management, on effective community engagement, and an EPA case study on the East Side neighborhood in Freeport, Illinois. Reece noted the value of South Carolina's EJ Strong grant from EPA, which the state is using to support a two-year effort to provide "training for real results" empowering community leaders to take action. Tribes shared a case study on working with a community to clean up septic systems to reduce E. coli in clamming areas, thus supporting community health and economic activity.   
The meeting also showcased: EPA air monitoring plans and best practices for working with community groups and supporting management and interpretation of data they collect; accomplishments related to EPA's Quality Assurance Project Plan review and approval timeliness target; and consideration of priority topics and state and tribal engagement on the Office of Enforcement & Compliance Assurance and Office of Congressional & Intergovernmental Relations Learning Agendas.   
For more information, contact Shana Harbour of EPA's Office of E-Enterprise, Beth Graves of ECOS, or Jason White of the Cherokee Nation.