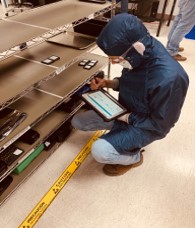 The E-Enterprise Smart Mobile Tools for Field Inspectors (Smart Tools) team has reached a major milestone by rolling out its Smart Tools for Resource Conservation & Recovery Act (RCRA) inspectors. At the same time, it continues to develop Smart Tools for National Pollutant Discharge Elimination System (NPDES) inspectors.
Environmental inspections are largely paper-based processes requiring hours of preparation and post-inspection work. Smart Tools brings environmental inspections into the 21st century by providing digital assistance to inspectors and their management during each stage of the inspection process, improving the quality and consistency of environmental inspections.
In June, the Smart Tools team released Smart Tools for RCRA for EPA and state inspectors in the early adopter states of Arkansas and Maryland. Arkansas and Maryland RCRA inspectors can now complete electronic inspection reports on their tablets or ruggedized mobile devices. EPA also recruited Smart Tools System Administrators for all EPA regions and 10 states.
For Smart Tools for NPDES, a state-EPA inspection process focus group of experienced NPDES field inspectors recently completed virtual mock user interface testing as well as two cycles of user acceptance testing. Although field-testing had been slated for summer, this stage has been delayed by COVID-19. This likely will push back the previously planned late December 2020 deployment of Smart Tools for NPDES.
EPA conducted six RCRA Smart Tools training sessions from November 2019 to February 2020 and is currently developing online training modules for RCRA users and making plans to host additional Smart Tools workshops for NPDES personnel. State and tribal inspectors and managers are encouraged to take advantage of these training opportunities.
For more information, contact David Meredith of EPA, visit the E-Enterprise Smart Tools page, or review the RCRA user documentation. To test out Smart Tools via the Smart Tools Sandbox, or seek information on adopting or receiving training on Smart Tools for RCRA inspections, please contact Emily Chow of EPA. For information on Smart Tools for NPDES inspections, or to participate in NPDES trainings, please contact Cassandra Rice. Chris Simmers of New Hampshire is the Smart Tools state lead.