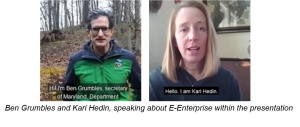 The E-Enterprise community has produced an informative presentation sharing the story of E-Enterprise for the Environment – a collaborative and transformative partnership working to simplify, streamline, and modernize the implementation of environmental protection programs nationwide.
Among other highlights, the presentation features cameos by members of the E-Enterprise Leadership Council (EELC), who describe the value of the effort in their own words.
"I get asked all the time, what does the 'E' in 'E-Enterprise' stand for," says ECOS Vice President and EELC State Co-Chair Ben Grumbles of Maryland in his video. "Is it environment? Is it electronic? Is it efficiency? And the answer is, unequivocally, yes!"
"We are awash in information, but without a way to organize, share, and make sense of it, we can't fully realize our responsibility as environmental managers," shares EELC Tribal Co-Chair Kari Hedin of the Fond du Lac Band of Lake Superior Chippewa. "I see E-Enterprise as having an increasingly important role" in our collective effort to improve how we work together.
For more information about E-Enterprise and its many innovative projects, click here.