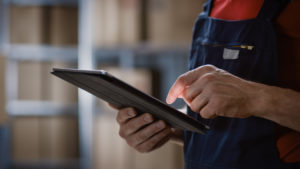 When the COVID-19 pandemic hit, stay-at-home orders and social distancing requirements complicated the jobs of environmental agency inspectors who regularly visit and tour indoor facilities accompanied by facility personnel. While EPA provided enforcement flexibility to facilities that had difficulty keeping up with their regulatory requirements due to COVID-19 restrictions, federal and state compliance and enforcement offices sought to stay on track with their inspection targets.
To share best practices on how states and regions managed to continue their inspection activities, ECOS and EPA launched the Remote Partial Video Compliance Evaluation Workgroup. The workgroup is tasked with creating a forum for states and regions to share information on remote inspections and with developing key documents, such as standard operating procedures and facility notice templates. Members began meeting in April and include representatives from EPA headquarters; the ten EPA regions; state environmental agencies in Alaska, Arkansas, Colorado, Connecticut, Iowa, Louisiana, Maryland, Mississippi, Nebraska, New Jersey, Nevada, and South Carolina; and the District of Columbia Department of Energy and Environment.
Participants describe the types of applications and technologies used to conduct inspections and discuss how their legal offices have addressed questions regarding various issues, such as recording inspections, protecting personal identifiable information, and providing required notices pre-inspection. The workgroup has also found that it is a relatively simple task to convert records review into a virtual format. With the assistance of facility personnel, states and EPA regions can also conduct walkthrough inspections using mobile technology. Conducting these remote inspections allows agencies to reduce travel, protect the health of inspection staff, and perform smaller facility inspections that may not regularly be possible.
The group continues to meet on a biweekly basis to share ongoing work. For more information, contact Don Welsh or Connor MacCartney of ECOS.