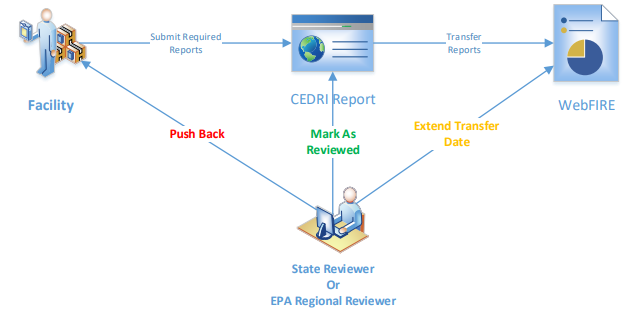 The new, streamlined CEDRI workflow.
Over the past year, the Compliance and Emissions Data Reporting Interface (CEDRI) has undergone a modernization effort to update and introduce new functionality for industry users; EPA; and state, local, and tribal agencies. Launched in 2012, CEDRI is the application that stationary sources use to prepare and submit New Source Performance Standards and National Emission Standards for Hazardous Air Pollutants reports. Earlier this year, EPA unveiled a modernized application for state reviewers that provides an updated look and feel, incorporates intuitive navigation, and most importantly, streamlines the state review workflow process. As a result of these changes, there has been a noticeable increase in state reviewer registrants and in usage by state, local, and tribal partners.
In the past when reports were submitted in CEDRI, a state reviewer had to perform all review tasks outside the CEDRI application. Now, the state reviewer can easily review, monitor, and track reports submitted by facilities within CEDRI. Once a report is marked as reviewed, it is cued for transfer to WebFIRE, a publicly accessible online repository.
In May, EPA extended CEDRI report collection capabilities to include selected Title V reports, notifications, and applications.
Webinars are currently being provided upon request to individual EPA regions and state, local, and tribal partners to showcase the new and updated functionality that is now available in CEDRI.
If you have questions about how CEDRI can support your air emissions reporting requirements, or if you are interested in a demonstration, please contact Ketan Patel or Casey Bray of EPA. For more information on CEDRI, please visit the EPA CEDRI webpage.