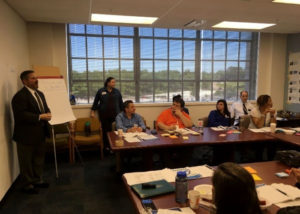 Following discussions at the May EELC meeting among EPA Acting Deputy Administrator Henry Darwin and other state and tribal E-Enterprise leaders, the Maryland Department of Environment (MDE) hosted lean experts from EPA's Office of Continuous Improvement (OCI) for training on, and deployment of, the EPA Lean Management System (ELMS). This June gathering introduced Maryland's Industrial and General Water Discharge Permits Division to the key lean management concepts and tools employed by ELMS and explained how to apply them at the state level.
Over the course of the meeting, the team analyzed its permit review process through a Supplier-Input-Process-Output-Customer exercise, selected quantitative measures and targets against which to gauge their performance, built flow boards and performance boards for visual management, and learned basic problem-solving tools. These deployment workshops are designed to help a work unit establish an ongoing management system for continuous improvement, moving beyond using lean tools on a specific issue or project.
"ELMS is an excellent model for establishing lean principles and tools as the basis for ongoing management and continuous improvement," commented MDE Secretary Ben Grumbles. "EPA OCI staff did an excellent job in making lean management understandable and accessible to our industrial discharge permitting staff and managers. We were glad that guests from EPA Region 3 and from ECOS were able to observe as well."
For more information, please contact Sue Battle-McDonald of Maryland and Laura Poole of EPA.