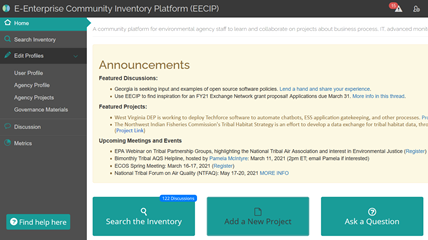 Screenshot of the E-Enterprise Community Inventory Platform
Environmental agencies across the country are using the E-Enterprise Community Inventory Platform (EECIP) to share their know-how and experience. The EECIP is an online community and living project inventory for state, local, tribal, and other environmental agencies and their employees across the United States. EECIP users can share information about their work, their agency, and their professional interests. They can also use the platform to connect directly with colleagues in discussion forums to jointly solve problems and discover, reuse, or repurpose the work of others.
Haven't joined EECIP yet? Been a while since you've visited? Here are a few things you may have missed!
EECIP is a great way to share and discover best practices, guidance, and policy. Why start from scratch when you can get a head start and borrow from your colleagues? As an example, the West Virginia Department of Environmental Protection has shared its guidance to help employees navigate the risky process of purchasing or contracting for software development. The documentation includes West Virginia's software purchasing process, a set of lessons learned from projects gone wrong, and more. If you have examples of policy or guidance that other agencies might be able to reuse, register them in EECIP and use the tag "Guidance."
EECIP can also inspire creativity. An increasing number of environmental agencies are using the StoryMaps platform as a way to tell interactive and engaging stories about the work that they do. EECIP includes a growing library of links to StoryMaps from agencies across the country. For example, the Hoopa Valley Tribe describes the impact of cannabis farming on the tribe's water resources, while the Michigan Department of Environment, Great Lakes, & Energy tells the story of its work to investigate the source of elevated lead emissions. Visit EECIP to find other examples that may help you tell your own agency's stories!
EECIP is also a good place to discover information about helpful technology. The Advanced Monitoring Scan and Screen Network and Technology Clearinghouse aggregates information on commercially available sensors and advanced monitoring devices. The EECIP page also now includes a list of state sensor contacts that have experience using a range of low-cost air and water sensors.
Joining EECIP takes just a few clicks, and account approval is automatic for most users.
 Sign up or log in
 today to start making connections! For more information, contact  
Owen McAleer
 of ECOS.