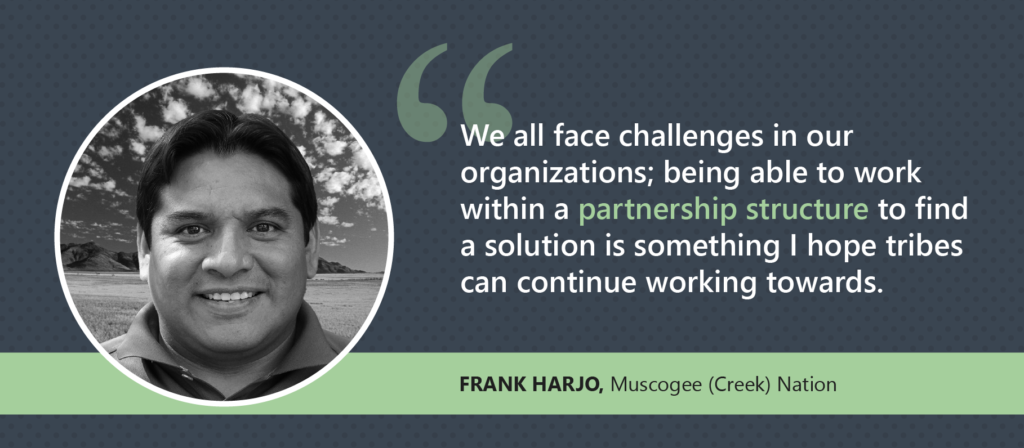 Meet E-Enterprise Management Board member Frank Harjo of the Muscogee (Creek) Nation. Harjo discusses his longtime involvement in E-Enterprise and the valuable lessons he has learned along the way.  
What roles do you fill on behalf of the E-Enterprise/Exchange Network initiative? 
I participate on the E-Enterprise Management Board and the Portal Workgroup as a tribal representative. I also participate in the Tribal Governance Group (TGG) that focuses more on the technical aspects of the E-Enterprise/Exchange Network initiative for tribes. The TGG works together with the Tribal E-Enterprise Leadership Council (EELC) members to collaborate on issues that affect tribal governments. 
What have you found to be the most rewarding aspect from your involvement in E-Enterprise? 
Being able to work with staff from tribes, states, and EPA from around the country has been a unique experience. It has been rewarding to work with so many talented professionals. We all face challenges in our organizations; being able to work within a partnership structure to find a solution is something I hope tribes can continue working towards. 
In which specific E-Enterprise projects are you currently involved, and how will these improve environmental outcomes?  
I am currently involved with the Portal Workgroup. The E-Enterprise Portal has the potential to utilize shared services and tools in a way that makes environmental information readily available to all decision makers. I think being proactive with data and using up-to-date information can allow environmental programs to use their available resources to prioritize trouble areas. 
What lessons have you learned through your experience in E-Enterprise and on the Management Board?  
There is a broad amount of expertise in this community and so many members are willing to share their experience on projects, which makes working on the E-Enterprise/Exchange Network feel like an approachable, rather than a daunting, task. The different ideas that everyone contributes are always interesting. The main lessons I have learned are that reuse and sharing are good for all of us.