EPA, state, local, and tribal agencies continue to turn to the E-Enterprise Community Inventory Platform (EECIP) to share our know-how and experiences. EECIP has four major cornerstones – enter and share information, solve problems, save time and money, and build community.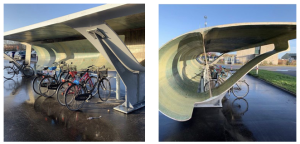 Engage with your colleagues today by joining the discussion thread on Managing Renewable Energy Waste Streams! It is estimated that in the United States there will be more than 720,000 tons of blade material to dispose of over the next two decades. This amount is roughly 8,000 blades a year over the next four years (as reported here in February 2020). As pictured above, some decommissioned wind turbine blades have been repurposed as bike sheds. What are some other creative solutions you've tried?   
For more information, contact Paulina Lopez-Santos of ECOS.