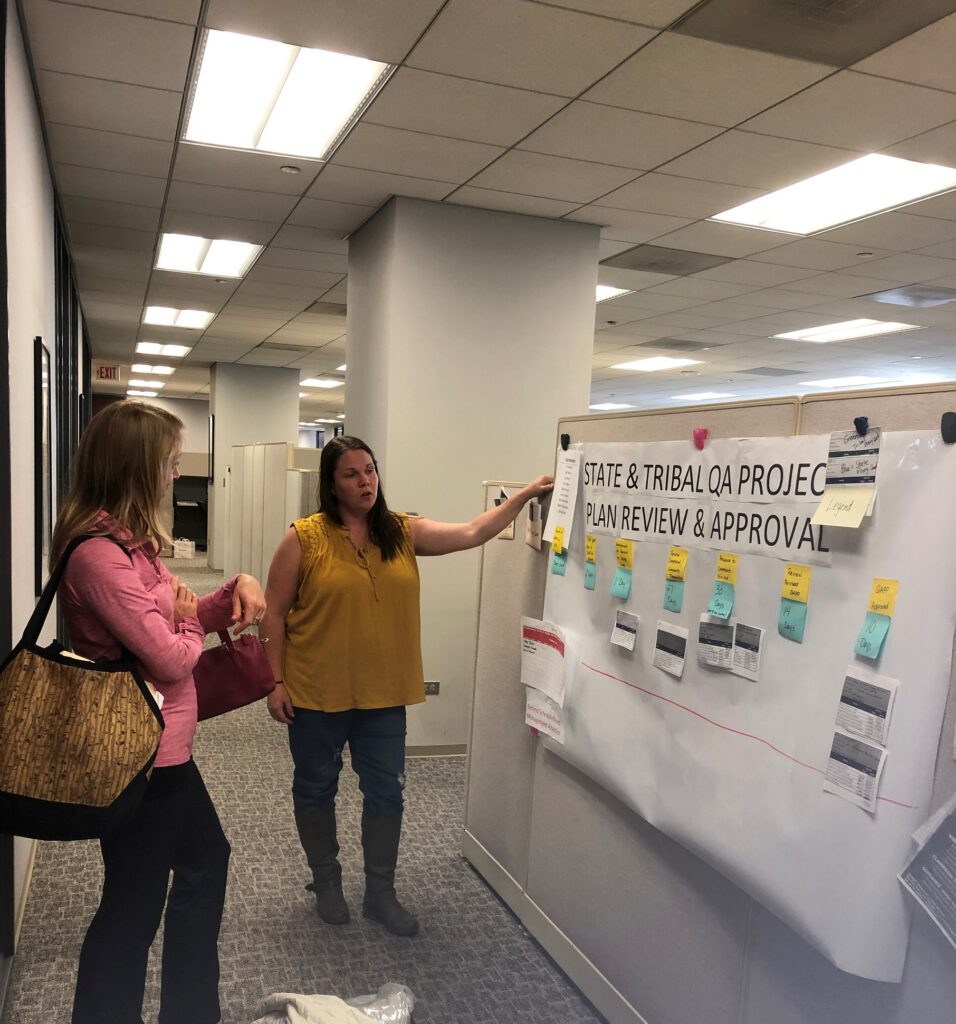 EPA Regions and the Office of Continuous Improvement (OCI), along with states and tribes, showcased their ELMS and continuous process improvement activities at the November E-Enterprise Leadership Council (EELC) meeting in Washington, DC. OCI Director Stefan Martiyan updated the EELC members on the recently launched ELMS permitting initiative assisting states and tribes in the deployment of lean management systems in permit programs, including water, air quality, and hazardous waste permitting. Through this initiative EPA may train selected state or tribal permitting experts if their agency completes a readiness assessment (to be reviewed by EPA), confirms senior level support, and demonstrates commitment to sustained process improvement deployment.
Individual state process improvement activities and regional ELMS outreach with states and tribes were highlighted throughout the EELC meeting: 
Deb Szaro, EPA Region 1 Deputy Regional Administrator, affirmed her support of ELMS. Over the summer, Region 1 presented its ELMS deployment experience to state commissioners and their staff and invited them to view their visual management boards, particularly those relevant to state and tribal processes and actions. In September, Region 1 provided training to New Hampshire's Household Hazardous Waste team to assist in its adoption of a lean management system. Region 1 has also focused on improving the Performance Partnership Agreement process, a joint effort necessitating the involvement of states or tribes who use that system in support of their annual prioritizing, planning, and funding activities.
This past June, EPA's OCI and Region 3 joined Maryland Department of the Environment Secretary Ben Grumbles and state industrial water discharge permitting staff and managers to share key lean management concepts and detail how to deploy a lean system at the state level. Building on this training, Maryland plans to expand the use of continuous process improvement.
During the 2019 Tribal Environmental Program Management (TEPM) October meeting in Chicago, Region 5 held an ELMS training session and walkthrough specifically focused on ELMS for tribes. EELC Tribal Co-Chair Kari Jacobson Hedin, Watershed Specialist with the Fond du Lac Band of Lake Superior Chippewa, worked with Allen Melcer, Region 5 E-Enterprise Regional Coordinator (EERC) Co-Chair, and MaryAnn LaFaire, Khalia Poole, and Ted Smith to deliver a training and visual management tour of the huddle boards maintained by Region 5. The training provided foundational information about process improvement principles, practices, and terminology. Hedin will work with EPA Region 5 ELMS staff to coordinate further ELMS training with tribes in Michigan, Wisconsin, and Minnesota, and with the Region 5 Regional Tribal Operations Committee.
ECOS President Jim Macy, Director of Nebraska's Department of Environment and Energy, supports his agency's robust system, relying on daily huddles, monthly metrics reporting, and annual long-term goals to accomplish continuous process improvement in various areas, such as air permitting and agricultural/livestock National Pollutant Discharge Elimination System permitting. Ed Chu, EPA Region 7 Deputy Regional Administrator, is proud of the Region's record on continuous improvement, including its 2016 initiation of a network with four states and one tribe that focuses on using continuous process improvement to streamline businesses practices. Region 7 has hosted numerous trainings for states and tribes on lean management and embraces learning from and sharing resources across states, such as Nebraska.
One of the many ELMS processes that EPA Region 8 has deployed focuses on Quality Assurance Project Plans for tribal grants, which are also a priority project for the EELC. During the November EELC meeting, Anthony DeLoach, Region 8 EERC and ELMS champion, provided information on the Region 8 quality assurance team accomplishments. Through visual management, the team is working to accelerate time and resolve sticking points, all while building team effectiveness and cohesiveness and improving working relationships with tribal partners.
EERCs, working with EPA ELMS regional champions, will continue to share process improvement information with states and tribes and offer tours of EPA's visual management boards with an eye to involving states and tribes in relevant ELMS processes. To broaden access to training, the May EE2020 meeting in Chicago, Illinois will include an ELMS workshop led by EPA's OCI.
This article touches on a sampling of lean management deployment and outreach; however, many additional states, tribes, and EPA offices are also realizing the benefits of process improvement work. For more information, please contact Lisa Comer of EPA.